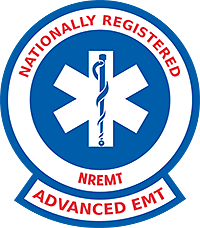 Expanding on the skills demonstrated in the EMT-Basic Program, the Advanced EMT (formerly called EMT-I or EMT-Intermediate) Program takes about 5-6 months to finish. The program teaches students how to insert a breathing tube (intubation), start IV's and administer medications by intramuscular injection and intravenously. Students who successfully complete this course are eligible to take the National Registry of EMTs psychomotor and cognitive exams which lead to certification at the AEMT level in the State of Texas, as well as with the National Registry of EMTs.
The Advanced Emergency Medical Technician (AEMT) Course is a comprehensive program consisting of both classroom (didactic), skills lab, clinical (hospital observation) and field (ambulance observation) components. The course adheres to the National EMS Education Standards which are based on the National EMS Core Content and the National EMS Scope of Practice that define the minimal entry-level educational competencies for each level of EMS training and has replaced the DOT National Standards curricula used in the past.
---
Course Overview
This course consists of 272 hours of classroom time that includes hands-on skills training sessions. The student must also complete (outside of class time), clinical internship rotations in the various hospital settings and shifts working on an ambulance for an EMS agency. Students are required to demonstrate the ability to assess and manage a minimum of 10 patients and document their care.
Classroom
272 Hours
Clinical – ER
Clinical – OR
60 Hours
18 Hours
Ambulance
72 Hours
Total
422 Hours
If you have completed an initial EMT course but are not yet certified as an EMT, you may still enroll in the AEMT course. Be aware that you will not be allowed to begin clinical rotations until you are certified as a Texas EMT. The absolute deadline for attaining your certification is the final week of class, prior to your final exam. Failure to obtain your certification by that time will result in a grade of "F" for the clinical portion of your AEMT program and an "I" Incomplete for your didactic portion.
If you have been in the industry for some time and only have a Texas EMT license, that is sufficient–there is not a requirement for NREMT certification as a pre-requisite for AEMT courses.
What does the screening process involve?
The screening process involves a background check and drug screen. EMERG will review all background checks prior to acceptance into the program. Unacceptable results may result in course dismissal and tuition being forfeited. Other background issues may pop up from the Texas Department of State Health Services or The National Registry of EMT's. Both perform a background check prior to certification or licensure.
If you have questions regarding what is or is not acceptable, contact these agencies directly at the following numbers:
TXDSHS: 512-834-6700
NREMT: 614-888-4484
The following may result in an unacceptable background inquiry:
Felony convictions or felony deferred
Misdemeanor convictions (Class A and some B)
Deferred adjudication involving crimes against persons (physical or sexual abuse)
Misdemeanor convictions related to moral turpitude (prostitution, public lewdness,/exposure, etc.)
Felony deferred adjudication for the sale, possession, distribution, or transfer of narcotics or controlled substances
Registered sex offenders
Drug screens will be conducted during class.
What vaccinations are required?
MMR
DTP
Varicella (chicken pox) vaccine or proof of immunity.
Hepatitis B
TB test (TST) (2 step process) – EMERG can do TB TST tests in class for an additional fee.
Flu shot (Seasonal) – EMERG can do flu shots in class for an additional fee.
What is the schedule?
The Dallas class runs Tuesday and Thursday evenings from 6pm to 10pm and every other Saturday from 8am to 5pm with few exceptions. There are occasional open lab classes scheduled on other days that are optional.
Click here for the May 2022 Dallas AEMT class syllabus.
How much does the course cost? Is there a payment plan available?
The cost of the course is $1,950. This price includes your tuition, background screening, drug screening, uniform shirts, textbook, lab manual/assignment book, and malpractice insurance. The only additional costs you will pay is the cost of EMS boots and pants for your uniform, vaccines, and the fee associated with National Registry testing and state licensure upon course completion. A $450 deposit is required at the time of registration to hold your seat in the class.
The following payment plans are available:
Option A:
$50 DISCOUNT
Pay in full by the first class and pay only $1,900
Option B:
$100 Financing Fee (included in payments below)
$450 Deposit
$320.00 end of first month of class
$320.00 end of second month of class
$320.00 end of third month of class
$320.00 end of fourth month of class
$320.00 before the final exam.
Payments may be made by check, money order, credit card or Paypal. There is a $50 fee for any returned checks.
What is your refund policy?
Tuition is fully refundable (less any fees already incurred) if written notice is given 30 days prior to the first day of class. If notice is provided less than 30 days prior to first day of class, tuition refunds are given on a pro-rated basis. No refunds are given after the start of class.
Do you offer financial incentives?
Yes! We currently have five incentive programs available. The maximum discount offered is $300.
Agency Sponsorship
If an agency such as a Fire Department or EMS service is covering the tuition for a student, a $100 discount will be offered. If an individual agency is sponsoring three or more students in the same class, each student will receive a $150 discount.
Volunteer Agencies
Those who work at a volunteer agency will receive a $200 discount. Verification from the agency chief or administrator is required.
US Veterans
Those who have served in any branch of the US military will receive a $200 discount. Verification of service required.
Valedictorian
Here's some inspiration to work hard…the person who passes each class with the highest score will receive a $250 cash reward!
Prior EMERG Student
If you were a prior EMERG student for EMT, you will receive a $100 discount.
I'd like to sign up for a class. How do I enroll?
To reserve a seat in a class, you may enroll online (register) for the Dallas class or you must fill out a registration form AEMT (Dallas) and return it to our office with a $450 deposit.
You may also contact our office to have us mail a registration form to your address. You may also return the completed packet via email. If you choose this option, credit card payment by phone or Paypal is required to reserve your seat.
Seats fill early and there are a limited number of spots available, so sign up now!
Where are classes/clinical held?
Classes are held at the EMERG office at 1140 Empire Central Drive Suite 440, Dallas. Clinicals are held at Medical Center of Arlington, Lake Pointe Hospital and Medical Center of Lewisville. Ambulance internships are held at the Grand Prairie Fire Department, Cedar Hill Fire Department, Arcadian Ambulance and the Celina Fire Department.
Other clinical sites can be added if needed, clinical and field internship sites are not guaranteed.
I still have questions. What should I do?
Click on the Contact Us link. We will be happy to assist you!